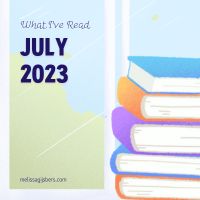 July means the start of a new financial year, and a busy month in my day job! Even though it's been busy, reading nine books this month was awesome. It did help to go to two book launches, although that added to my TBR pile, and my picture book collection!
Here are the books I've read this month:
Last Chance Books by Kelsey Rodkey – a fun YA audiobook that features a book shop. What's not to love?
Mia's Glamma by Josie Montano & Carla Hoffenberg – This is an awesome picture book for glamorous grandmother's everywhere
The Library of Lost and Found by Paedra Patrick – an audiobook set in a library that includes a mystery when a book shows up on the main character's doorstep. Lots of twists and turns in this one
The Secret Science Society in Space by Kathy Hoopmann & Josie Montano – a fantastic middle grade book, the second in the Secret Science Society series.
The God of Small Things by Arundhati Roy – I listened to this as an audiobook and it's one that I've been wanting to read for ages. I really enjoyed this one
Maybe: A story about the endless potential in all of us by Kobi Yamada – a picture book that I read at a friends house and a lovely book that shows how amazing we are
Love & Autism by Kay Kerr – the latest in my reading about autism. This one shares stories about love and autism through they eyes of a few different people
The Song of Lewis Carmichael by Sofie Laguna – a middle grade audiobook with a lovely message that kids are often more capable than adults give them credit for
With a Sprinkle of Courage by Jackie Case – a stunning picture book that shows kids how to have courage
I'm am currently listening to Last Chance Library by Freya Sampson (can anyone spot a theme for audiobooks lately?) and am enjoying it so far.
How was your July reading?