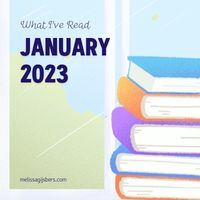 Welcome to a new year! I know I wished you Happy New Year on 1 January, however this is a new reading year. I've decided to create a new image for these posts for the year too, and I'm going to try to write a bit more about each book I've read.
The year is off to a great start with 10 books read. When I saw it was nearly the end of January and I was at seven books, I did read a few picture books I'd downloaded and hadn't read yet to bring the total to 10…
Here are the books I read in January:
When I Grow Up I Want to Be a Dinosaur by Mikayla Ruvalcaba and Maria Burobkina. A fun picture book that would be great for budding paleontologists
The Amazing Edie Eckhart by Rosie Jones. A middle grade novel featuring a kid with cerebral palsy navigating life. Told in a diary style with so many laugh out loud moments
The Fantastic Flying Books of Mr Morris Lessmore by William Joyce and Joe Bluhm. A picture book that shows the power of books. One that older readers will enjoy
Storm Horse by Jane Elson. A middle grade book featuring a kid with dyslexia and a reading horse that shows how amazing dyslexic kids can be, especially when it comes to creative problem solving and compassion for others
When I See Blue by Lily Bailey. A middle grade book featuring a kid with OCD. This story was powerful and was laid out in a way that made it very easy to read
Eliza Vanda's Button Box by Emily Rodda. I listened to this one on audiobook while driving to workshops. A fun middle grade adventure that brings back memories of buttons my mum and Oma had, and a story kids will love
Practice Makes Perfect by Penny Parkes. A novel that was fun with a lot of complex relationships and a fabulous older woman with a lot of amazing advice for the other characters
Nonni's Moon by Julia Inserro and Lucy Smith. A picture book that shows the bond between grandchildren and grandparents no matter how far apart they are
Shark in Love by Alma Hammond and Katya Shyshkova. A picture book about being yourself and finding what makes you special, and finding friends you may not expect
My Camel Wants to be a Unicorn by Julia Inserro and Tanja Varcelija. A fun picture book that shows that what you see on the surface may not be the whole story
They are the books I've completed in January, I'm reading a few books at the moment including Three Cheers for the Shipyard Girls by Nancy Revell, Deadly Start by Phillipa Nefri Clark, and Perfectly Weird, Perfectly You by Camilla Pang.
I've set a goal for 50 books this year, I'm well on the wait to achieve that goal.
How was your reading for 2023? I hope you read some good ones.