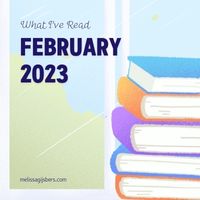 After a bumper start to the year with 10 books in January, I read six books in February, and have a couple on the go. The end of February came up faster than expected!
Here are the books I read in February:
Unicorns Don't Love Sparkles by Lucy Rowland – a picture book that shows that you don't have to fit in to be amazing.
Koalas Stole My Undies by Kylie Howarth – a picture book with an important lesson to wear undies… however you decide to wear them!
Midnight on the Orient Express by Fiona McArthur – an audiobook that was a fun, Christmas story. I listened to this on a couple of long drives and it was a fun story to accompany my journey
Three Cheers for the Shipyard Girls by Nancy Revell – this story was interesting, however I didn't realise it was book 12 in a series when I picked it up from the library!
One Yelpy Kelpie's Wildlife Adventure by Jo Rothwell – a fun picture book that explores Australia and all our amazing animals
Ada Lovelace – a biography in rhyme by Ramya Julian – a picture book designed to introduce kids to Ada Lovelace, a mathematician and someone well-known for her work in the early days of computing
I am in the middle of reading Perfectly Weird, Perfectly You by Camilla Pang and listening to Dead Man Switch by Tara Moss on the Borrow Box app.
How did you go with your reading in February?