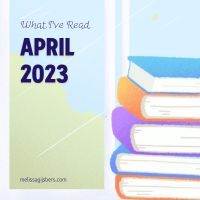 April has flown by. I had thought that I hadn't read much during April, but when I saw the titles, there were quite a few books on the list.
Most of the books were audiobooks. I did quite a bit of driving!
Here is my list:
The Royal Correspondent by Alexandra Joel – an audiobook that was an interesting adventure looking at women in the media and life in the 1960s.
Exit Through the Gift Shop by Maryam Master – I have been wanting to read this one since it was featured in last years Forevability awards. It was an interesting middle grade story that covers quite a few issues including bullying and death. I listened to the audiobook.
Fairest by Marissa Meyer – another audiobook. A few years ago, I read The Lunar Chronicles and loved it. This is a story about Lavana, one of the characters and showed the origin on of some of the other characters. It was fun being back in that world again.
My Very Punny Dad by Ryan Milligan – a picture book that I shared with my nephews as an ebook. It was a lot of fun.
Mim and the Disasterous Dog Show by Katrina Nannestad – an audiobook. I head the first two of the Travelling Bookshop books last year and really enjoyed them. This one was just as magical.
Piano Fingers by Caroline Magerl – a picture book and one I have been wanting to read for some time. It was gorgeous.
Bowerbird Blues by Aura Parker – a picture book with stunning illutrations.
Til Daph Do Us Part by Phillipa Nefri Clark – a cosy murder mystery. I've been following the author for a while and this is the first of her books I've read. I really enjoyed it and can't wait to read more.
This brings my total to 35 books on GoodReads.
I am currently listening to Waking Romeo by Kathryn Barker and trying to decide my next book to read.
What did you read during April? I hope you read some good books.