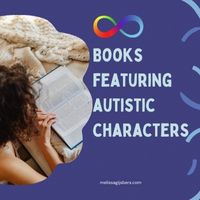 If you been hanging around here for any amount of time, you'll know that I read a lot of books! I always have. Growing up, the only book I read that featured an autistic character was The October Child by Eleanor Spence, and that is what I thought autism was.
In the last year, I have read a number of books that feature autistic characters in a positive light. In most cases, they are characters like any other, living their life, navigating the things the life throws at them, just like anyone else.
Here are a few of the titles I've enjoyed:
Paws by Kate Foster – featuring an autistic boy in grade six and the most gorgeous dog. Explores themes of what it means to be a friend, among others. It was one of the first books I read where I felt I saw myself as child in a book!
A Kind of Spark by Elle McNicoll – featuring an autistic girl. Another book that reminded me of myself as a child. I could relate to the main character and her sister in so many ways.
The Me You Don't See by Sam Matthews – a picture book by an autistic boy. He wrote it when he was 10 to explain to people what autism meant to him.
Harriet Hound by Kate Foster – featuring an autistic girl. I had the great honour to get a review copy and this autistic superhero is all kids of awesome. Order a copy in your local library and read it when it comes out.
Wishing on a Star by Mandy Baggot – a RomCom where the main character has an autistic daughter. There were also clues that hinted that the main character was an undiagnosed autistic woman, I suspected this as I saw a lot of my self in her.
The Secret Science Society's Spectacular Experiment by Kathy Hoopmann & Josie Montano – the main character has ADHD, his best friend is autistic. This shows both autism and ADHD in a positive and entertaining light.
There are a lot of other books out there, and my TBR pile is constantly growing. These are some that I have really enjoyed and I'm sure you will too. Each of them show different aspects of life as an autistic person. Even though most of these are books for kids, grown ups will enjoy them too.
Do you have any recommendations I should add to my list?