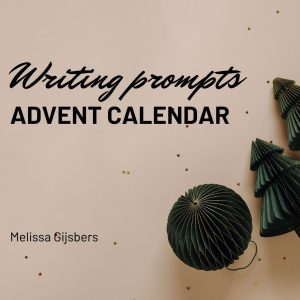 It's nearly the end of November, and this means Christmas is on its way.
When I was a kid, my Mum made an advent calendar that followed the nativity story through Bible verses. Each day we would read the verse, then put a decoration on a felt tree, with the angel on the top on Christmas day. It was a fun thing to do, however I can remember wishing we were allowed a chocolate advent calendar!
This countdown to Christmas was part of our celebrations and was a fun time we could spend together.
If you've been around for a while, you'll know that I love coming up with writing activities. My 12 Days of Christmas program is on again this year after Christmas. For a number of years, I've been wanting to do a Writing Prompt advent calendar.
This year, I ran out of time to create it as an offline program. The original idea was a series of cards that you take out of an envelope each day, the second idea was a book that you work through. Instead of an offline program, I am doing an email program.
Every day from December 1, I will send out a Christmas themed writing activity. Most will be secular, there are one or two nativity story based activities. They are suitable for all the family, from 8 to adult, and can be done as a family, or simply a fun thing you can do every day.
As always, each activity can take as long or short as you like. Many of the prompts will have been done in writers' groups with a time of 15 to 30 minutes.
The program is only $12 for 24 day of writing goodness.
Sign up using the Trybooking link – https://www.trybooking.com/CNCIX
You will be given an option to join the 12 Days of Christmas program too so you can keep the writing fun going after Christmas.
I look forward to sharing my Writing Prompts Advent Calendar with you this year.